Practice Manager: Sarah Eastwood
Bio coming soon!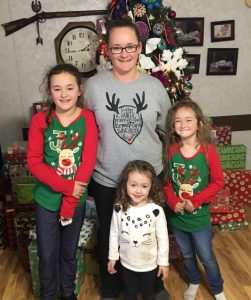 Customer Service Representative: Keshia Powers
"Every day is a new day. Smile, stay positive, and give your best. Miracles happen every day." –Unknown
Keshia grew up in Valliant, Oklahoma with her parents and her two brothers. She married her husband, Jason, in September 2009 and they have three beautiful daughters. They have four dogs, including Kilo who is a retired police dog. Kilo worked faithfully alongside Keshia's husband for 4 years and is now enjoying his retirement at their family home in Valliant.
Keshia loves camping, hunting, and spending time with her husband and children. Without question her favorite holiday is Christmas and she certainly brings enough Christmas cheer for the entire clinic each year. If you were to ask our staff what two of her favorite foods are, they would tell you, without hesitation, pizza and peanut butter (but certainly not together!). Keshia is one of our most crafty employees and our clinic definitely benefits from her creativity.
Keshia joined our team in July 2015 and started by working behind the scenes as one of our dedicated kennel assistants. When we opened the doors of our new building in August 2017, Keshia helped increase our customer service experience by becoming one of our full time receptionists. When asked why she chose to make the change Keshia said, "I love being around people!" Keshia strives to create a stable work environment around her and can be counted on to remain calm and steady. We love her patient nature and value all that she adds to our practice. Thank you for being such an integral part of our team, Keshia.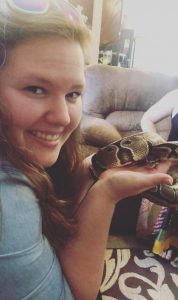 Inventory Manager: Charity Christopher, RVT
"Kindness is a language that the deaf can hear and the blind can see." – Mark Twain
Charity is originally from Crowell, Texas where she grew up helping her parents at their ranch. She enjoyed showing cattle at her state and local stock shows and was very involved in her community. Charity became an Oklahoma resident in 2011 and currently lives in Sawyer, Oklahoma with her son, Andrew, who was born in March of 2019. Charity has a special place in her heart for rescuing and rehabilitating Great Danes. She currently has two Great Danes named Asher and Ava. Asher was rescued from a shelter in Paris in October 2013 and Ava came along a little while later in April 2016. Ava was emaciated, infested with intestinal parasites, and sadly heartworm positive. She is happy, healthy, & heartworm free today! Charity also has a cat named Lola that she rescued from an abusive situation, while she attended college in 2012. Stryder, her most recent rescue, is a favorite of the staff here. He was brought to the clinic when he was a tiny kitten in 2017 to be euthanized because he had a swelling on his spine and he was unable to use his back legs. Charity worked with him to be able to walk again and he is a loud, rambunctious cat who doesn't let anything slow him down. Charity also has a Labradoodle named Willow, two horses, and four other cats.
Charity is a new mom and is loving watching her son grow and change each day. She loves learning about health and fitness and became a certified Refit instructor in September 2015. She is a big OneRepublic fan and loves to have christian contemporary music playing in the background during the work day. Charity loves learning about personality profiles and what makes each person unique and individual. She keeps tabs on what each of our staff members likes and is usually the first to volunteer for a project. Charity and our practice manager coordinated our 5 year anniversary party in June of 2018.
Charity grew up with a passion for animals and pursued a career in the veterinary field as a Registered Veterinary Technician. She graduated from the Veterinary Technology program at Murray State College in May of 2013 and obtained her Associates in an Applied Science degree. After passing her state and national board exams, she went on to complete her externship at a mixed animal practice in Ada, Oklahoma. Charity joined our team in September 2013 and her role at the clinic has evolved over the years as our business has grown. In the past, you may have seen her with one of our doctors, if you had to come in for an emergency visit for your pet. Due to the rapid pace that our business is growing, she has recently taken on the role as our Inventory Manager and also maintains our social media accounts. Charity may also greet you at our front desk or answer your phone call at times when she assists our receptionists. We are very excited to have Charity as a member of our team! She looks forward to continuing to help our business thrive for many years to come.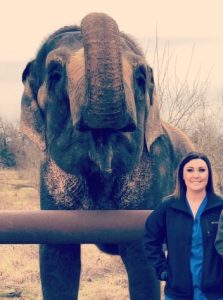 Barn Manager: Brittini Ellison, CVA
"It is our duty to love the unloved, help the helpless, and bring hope to the hopeless." – Anthony Douglas
Brittini grew up in Ft. Towson and currently resides in Soper with her husband and a variety of pets. Brittini is one tough lady with a heart of gold. Several of her personal pets were animals that were brought to our clinic with numerous medical problems; some with issues that would overwhelm the average pet owner. Brittini has old dogs, dogs with three legs, abandoned dogs, unwanted cats, senior pets, and horses. She has spent many sleepless nights feeding puppies, kittens, rabbits, & other exotic baby animals. She has a passion for rehabilitating injured animals and working with animals that need hours of physical therapy and intensive care. She has been with many pets as they take their last breaths, giving them love and kisses and telling them it will all be okay, as they leave our world. She has spent the night on the floor of our hospital next to a dog that we knew might not make it through the night. When we asked her why she did this her response was, "I didn't want him to be alone if tonight was his last night."
Brittini loves riding horses, hunting, and anything that involves being outdoors. She has her scuba diving certification and loves to travel. She loves Cajun food and country music. She hates spiders, but loves snakes and other exotic animals. Brittini is always the first person to jump in and volunteer for that unusual case or difficult patient. She loves a challenge and does not let fear hold her back.
Brittini attended Hugo High School and graduated knowing that she had a passion for animals and wanted to dedicate her life towards caring for them. She completed the Veterinary Assistant Training Program with Animal Behavior College. Brittini joined our team in August of 2014. As a certified veterinary assistant, her duties in our clinic include, but are not limited to: patient care, assisting our veterinarians with appointments and procedures, patient rehabilitation, laboratory work, and emergency care. Brittini will continue to be a vital member of our dedicated staff. Brittini looks forward to caring for your pets for several years to come. Thank you for all of your hard work and dedication, Brittini.
Nurse: Hannah Arterberry, RVT
Bio coming soon!
Nurse: Rabekka Wilson, RVT
Bio coming soon!
Nurse: Taylor Fry, CVA
Bio coming soon!
Nurse: Valaree Bates
Bio coming soon!
Nurse: Jessica Eaton
Bio coming soon!
Nurse: Stefani Arpealer
Bio coming soon!