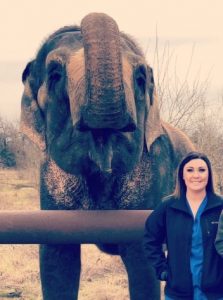 Certified Veterinary Assistant: Brittini Ellison, CVA
"It is our duty to love the unloved, help the helpless, and bring hope to the hopeless."
Brittini grew up in Ft. Towson and currently resides in Soper with her husband and a variety of pets. Brittini is one tough lady with a heart of gold. Several of her personal pets were animals that were brought to our clinic with numerous medical problems; some with issues that would overwhelm the average pet owner. Brittini has old dogs, dogs with three legs, abandoned dogs, unwanted cats, senior pets, and horses. She has spent many sleepless nights feeding puppies, kittens, rabbits, & other exotic baby animals. She has a passion for rehabilitating injured animals and working with animals that need hours of physical therapy and intensive care. She has been with many pets as they take their last breaths, giving them love and kisses and telling them it will all be okay, as they leave our world. She has spent the night on the floor of our hospital next to a dog that we knew might not make it through the night. When we asked her why she did this her response was, "I didn't want him to be alone if tonight was his last night."
Brittini loves riding horses, hunting, and anything that involves being outdoors. She has her scuba diving certification and loves to travel. She loves Cajun food and country music. She hates spiders, but loves snakes and other exotic animals. Brittini is always the first person to jump in and volunteer for that unusual case or difficult patient. She loves a challenge and does not let fear hold her back.
Brittini attended Hugo High School and graduated knowing that she had a passion for animals and wanted to dedicate her life towards caring for them. She completed the Veterinary Assistant Training Program with Animal Behavior College. Brittini joined our team in August of 2014. As a certified veterinary assistant, her duties in our clinic include, but are not limited to: patient care, assisting our veterinarians with appointments and procedures, patient rehabilitation, laboratory work, and emergency care. Brittini will continue to be a vital member of our dedicated staff. Brittini looks forward to caring for your pets for several years to come. Thank you for all of your hard work and dedication, Brittini.
Receptionist: Carla Antu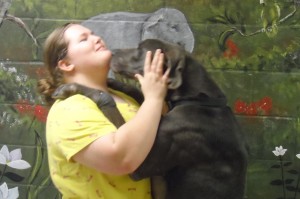 Registered Veterinary Technician: Charity Christopher, RVT
Charity grew up with a passion for animals and pursued a career in the veterinary field as a Registered Veterinary Technician. She graduated from the Veterinary Technology program at Murray State College in May of 2013. She went on to complete her externship at a mixed animal practice in Ada, Oklahoma. Charity joined our team in September 2013 and has a special interest in small animals. Charity has several pets including a calico cat named Lola, a Great Dane named Asher, and four horses.
Charity is originally from Crowell, Texas where she grew up helping her parents at their ranch. She enjoyed showing cattle at her state and local stock shows and was very involved in her community. Charity became an Oklahoma resident in 2011 and currently lives in Sawyer, Oklahoma.